Critical Skills for Business Critical Systems
June 17, 2020
by
Jerry Crossfield
in AIX
■

Introduction

Since it's first release in 1986, AIX (IBM's Unix operating system) has flourished and continues to support many critical applications across industries. It also has a committed future with IBM publishing a roadmap until at least 2030 [1] giving future clarity compared to other Unix environments.

If you are still running AIX today you are certainly not alone (as evidenced by IBM's roadmap commitment), however the past few months has highlighted the critical skills we need in society and in our businesses. As AIX and Unix experts, companies have been increasingly contacting L3C to ask for advice on handling a wide range of AIX issues as the ongoing support and strategy for their business critical AIX/Unix applications and infrastructure has been exposed.

In the first of a series of articles we explore skills shortages particularly for System Administration and associated Database Administration which will be followed by articles covering HA/DR, backup and archive, managing out of support environments that can't/won't be upgraded and moving AIX workloads to a cloud environment that integrates into your overall digital/cloud strategy. All of which will be underpinned by the essential need to reduce operational costs.
■

If the systems are so critical why the skills shortage?

This is due to a number of factors, partly demographics, partly the stability of the platform and partly the evolution (and dominance in the marketplace) of alternative platforms such as Linux and x86 based environments.

Given AIX (and other Unix environments such as Solaris and HPUX) came to the forefront of the market in the late 80s and early 90s many skills have simply left the market or retrained on other platforms. The stability of the underlying infrastructure supporting AIX [2] has also meant that many companies have remained on older (now unsupported) versions or accepted the risk of staff leaving or being redeployed and not replacing them.

However this lack of skills has left enterprises exposed, not just to resolving issues when they occur (when it does fail AIX and Unix environments tend to need deep experts to resolve) but also to maintaining acceptable levels of high availability/recovery, service levels to the business area relying on the critical system and integrating into an enterprises' overall cloud or digital strategy. Let alone maintaining patch levels to minimise cyber risks.

Add into this mix administration support for the database environment that could easily be an older version of Oracle or even one of the less commercially popular databases such as Progress and the risk and exposure is amplified.
Server Operating System Availability [3]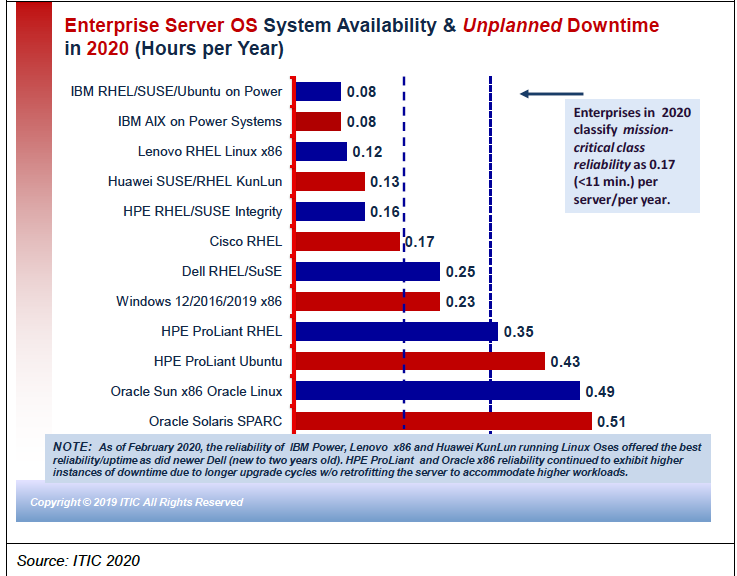 ■

Resolving the skills shortage

To address the skills shortage and its subsequent implications enterprises can of course go to the market to recruit, but given these skills are limited in the marketplace already this is not necessarily a fruitful pursuit. Obviously there is also the option to continue as is and accept the risk, but this will only intensify going forward, particularly if the system remains critical or highly important to the business. It also will tend to exclude the AIX and Unix systems from any strategy to modernise (including moving to cloud) simply because no one will understand the environment in the required detail. 

L3C are one of the few services (including cloud services) companies to specialise in AIX, other Unix and associated database support (such as Oracle and Progress). We provide highly expert remote System Admin and DBA support at low cost with a highly effective SLA from less than £1,000 per month [4] and can also migrate your environments to our UK data centres. 

Find out more on our AIX services or drop us a line at office@l3c.cloud