Extending your AWS Azure Google IBM Bluemix or Public cloud to include core AIX Solaris and HPUX apps
As cloud strategies continue to accelerate deploying existing and new applications into public clouds such as AWS, Azure, Google and IBM Softlayer / Bluemix its key to consider core AIX, Solaris, HPUX and even IBM I applications into this strategy. While these so called legacy Unix (and IBM I) applications are not supported by the major public clouds and probably it wouldn't be appropriate to deploy in such a uniform environment even if they were, they can be brought into the cloud strategy and design.
At L3C we can provide direct connections into AWS, Azure and the major public clouds enabling your public cloud based applications to connect to your core AIX, Solaris, HPUX or IBM I environments hosted in our tier 3 UK data centres. We provide custom, dedicated environments for our clients giving you an opportunity to revisit the service levels, DR RTO/RPO and support that you require for your core Unix applications – based on what the business needs going forward as IT strategy evolves. You can maintain your Sysadmin and DBAdmin support or we can complement your teams with our experienced Sysadmin and DBA support for DB2, Oracle and Progress. We can advise on whether your Citrix servers may need to be relocated from a public cloud depending on latency requirements but overall your core applications can benefit from improved service levels (and most likely reduced costs) as part of your cloud strategy.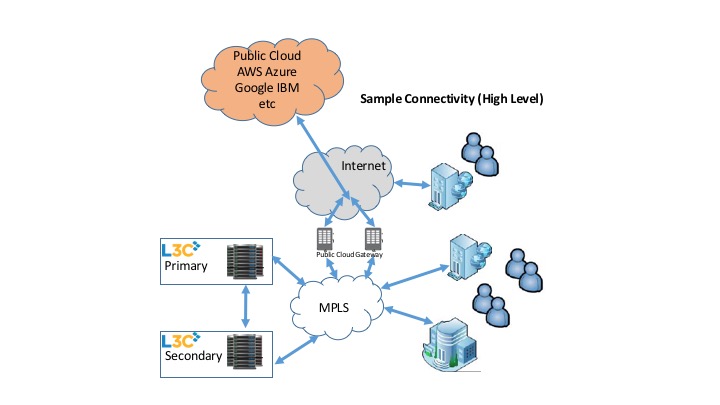 A fairly recent IBM study (https://www-01.ibm.com/common/ssi/cgi-bin/ssialias?htmlfid=POW03169USEN) listed 10 out of the world's top 10 banks, 10 out of 10 of the world's top 10 communications companies and 8 out of 10 of the world's top retailers as running Power systems (the technology that underpins AIX) and it's probably similar stats for Solaris. Consequently, it's reasonable to assume most enterprises have Unix servers running core applications that need to be able to embrace the benefits of a hybrid approach. We discuss with many clients how we can migrate them from maybe unsupported AIX, Solaris and HPUX environments onto a more robust platform and benefit from the opportunity to redefine service levels for the needs of 2018 and beyond. Challenge us at office@l3c.cloud.