What is the most reliable server?
As a cloud and hosting provider a reliable and robust server infrastructure is key to our clients. ITIC recently published their mid-year update on their Global Reliability Survey (this is not sponsored by any vendor to allow neutrality), ranking the most reliable servers. 
At L3C our infrastructure is built on IBM Power, Lenovo x86 and IBM System Z which all provide the most robust environments according to the survey with only 1% of IBM Power and Lenovo x86 servers recording > 4 hours of unplanned downtime per server per year, with System Z mainframe coming in at 0.62%.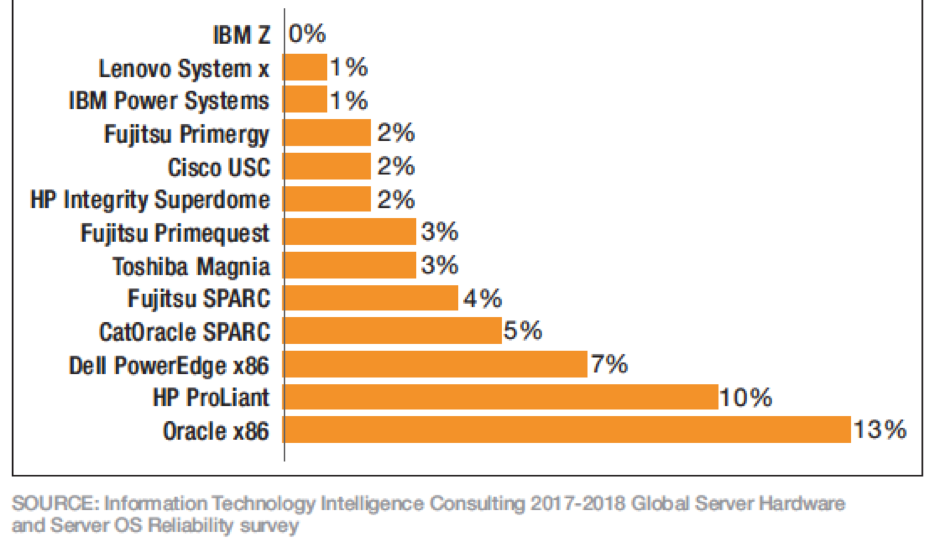 The Most Reliable Platform for Linux
Furthermore, the survey revealed that IBM Power and Lenovo x86 are the most reliable platforms for Linux distributions with 88% of IBM Power and 87% of Lenovo x86 users experiencing less than one unplanned outage per server per year.
What this means for clients
With robust infrastructure, tier 3 data centres and the expertise of our team our clients can benefit from enhanced service levels, fit for purpose DR and an attractive commercial proposition by moving to our environment.
Older infrastructure not only is less reliable (66% of users in the survey said ageing hardware had a negative impact on reliability) but also increasingly costly to maintain (come the New Year cometh a new maintenance bill?). We can help you move older AIX, HPUX and Solaris workloads to modern platforms to improve reliability, service levels, revamp your DR for current business needs and often for a more attractive commercial position.
Solaris users in particular have been perturbed not only by such reliability results especially on older environments as highlighted in the survey but also recent negative news items and have been exploring Linux as a possible migration path. Our Power and Lenovo environments provide an ideal platform on which to base a migration initiative supported by our technical team.
Indeed, IBM Power and System Z can also provide an excellent platform to consolidate Oracle DB saving clients significant amounts in Oracle licensing costs compared to x86 environments by utilising fewer cores.
If your current Unix infrastructure is causing sleepless nights either from a reliability, cost or fit for current business needs then contact us to see what can be realistically achieved.
office@l3c.cloud or 0203 542 0870
Jerry Crossfield